WORKSHOP #5 - ESSENTIALS TO BUILDING AND EXECUTING AN ADAPTIVE STRATEGY IN 2022
Welcome to the Resources page for the Gold Coast Business Leaders Workshop where we focused on essentials to building and executing an adaptive strategy in 2022. Below you will find links to the PowerPoint Slides, videos, articles, and diagnostics that we discussed during the session. If you have any questions do hesitate to contact me. Russ
These are the slides that were used on the day.
The annual Mindshop Business Surveys for 2022 are below. If you operate or manage a business then make sure that you download a copy of the Business Leaders Survey.
If you run an Advisory Business then you might also want a copy of the Business Advisors Report.
Links to related videos from the workshops.
How to make a Video and Blog
Annual Operating Plan Template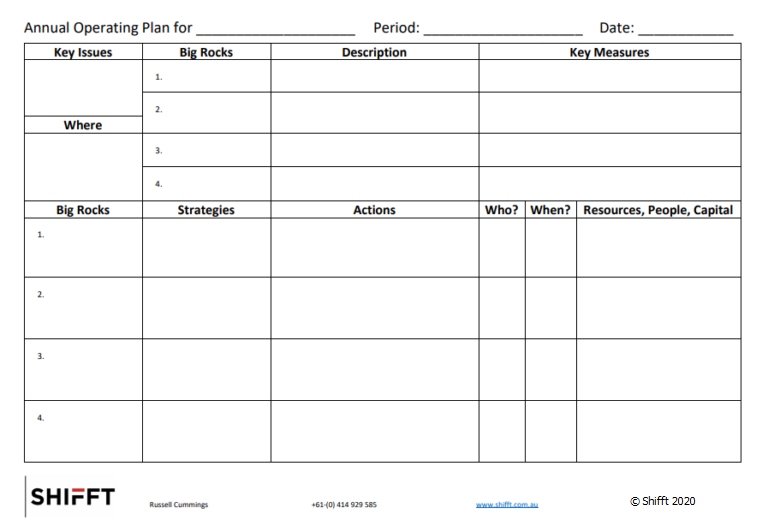 90 DAY PLAN TEMPLATE FOR 2022
AUGUST 2022 - GOLD COAST BUSINESS LEADERS WORKSHOP #6 - GROWTH & PROFIT - THE EVOLVED CUSTOMER
Building on our previous workshops, this session will focus on understanding that client expectations are changing and our clients are evolving in terms of their wants, needs and expectations.
Use our third workshop for 2022 to work on understanding what your evolved customers want and matching this to growth and marketing strategies that work. We will explore how do you scale for growth and where are the profit opportunities for you in your business.
An event not to miss so please ensure you register now.
Register your place now to ensure you are armed with the latest strategies to successfully navigate the road forward in 2022. This event will be held at the Mermaid Waters Hotel on Markeri Street and is a private function.
Facilitated by Russell Cummings (SHIFFT) and Denise Maloney (Coffee News Australia) this will be a fantastic opportunity to reset and walk away with a wealth of practical ideas and strategies for a successful year ahead.
There is a small charge to cover venue and catering.